Schumer to host AI workforce forum with labor unions, big banks and tech scholars
Senate Majority Leader Chuck Schumer will host JPMorgan CEO Jamie Dimon, Visa CEO Al Kelly and some of the top union leaders in the country next work for discussions on AI in the workplace.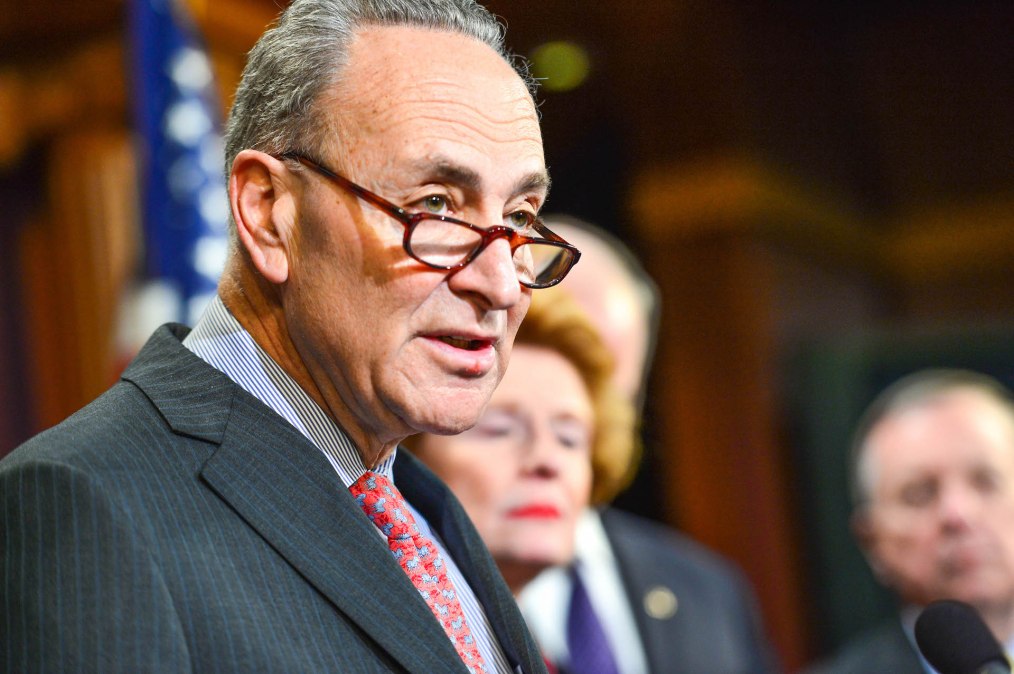 Top leaders from some of the most powerful labor unions, financial institutions and think tanks in the U.S. will convene on Capitol Hill next week to discuss the nexus of artificial intelligence and the workforce, with an eye toward how the federal government can ensure AI benefits for those across the economic spectrum.
Senate Majority Leader Chuck Schumer's third bipartisan, closed-door AI insight forum, to be held Nov. 1, will lay down a new foundation for AI policy in the workplace and discuss potential avenues for regulating the technology by gathering both those bullish on AI as well as skeptics and critics of the technology.
"This Forum is focused on the intersection of AI and the workforce. It aims to explore how AI will alter the way that Americans work, including the risks and opportunities," Schumer's staff said in an invite to the forum viewed exclusively by FedScoop.
"Workers in industries across the economy, from medicine, manufacturing, transportation and energy, to entertainment, hospitality, and more, will feel the impacts of widespread use of AI. The primary objective is to examine how the federal government can bolster the domestic Al workforce and ensure the use of AI benefits everyone," the invite said.
The list of attendees invited to the third AI forum includes: JPMorgan CEO Jamie Dimon, Visa CEO Al Kelly, National Nurses United Executive Director Bonnie Castillo, UNITE HERE President D. Taylor, SAG-AFTRA Executive Director Duncan Crabtree-Ireland, IBEW President Kenneth Cooper, CWA President Claude Cummings, Accenture CEO Julie Sweet, Microsoft's Senior Director of Education Policy Allyson Knox, and Center for American Progress (CAP) President Patrick Gaspard.
Schumer's first AI forum in September was focused broadly on finding and agreeing on the most pressing problems related to AI, while the second forum earlier this week was focused on innovation through increased federal research and development funding, tech immigration issues, and ways to find common ground on AI safeguards.
The New York Democrat has planned nine different "insight forums" that will focus on issues including national security, privacy, high-risk applications, bias and others.
Schumer's AI push comes as federal officials, along with Congress, weigh myriad approaches to regulating AI. There's growing pressure on the U.S. to catch up to the European Union, which recently passed draft legislation called the AI Act. At the same time, federal officials are also searching for ways to push U.S. companies to the forefront of global AI technology development — particularly as China continues to invest in the technology.
Schumer in June introduced a plan to develop comprehensive legislation in Congress to regulate and advance the development of artificial intelligence in the U.S. Called the "Safe Innovation Framework for AI Policy," the plan outlines ways to "protect, expand, and harness AI's potential" as Congress pursues legislation.
The Biden administration has also expressed a commitment to safeguarding Americans' rights and safety with a focus on protecting user privacy and addressing bias and misinformation in AI. Biden in June met with tech leaders and academics in the AI space in Silicon Valley.