How VA spent $1.1B in 6 years on EHRs it's now trying to replace
VA paid more than two-thirds of it — $741 million — to just 15 contractors.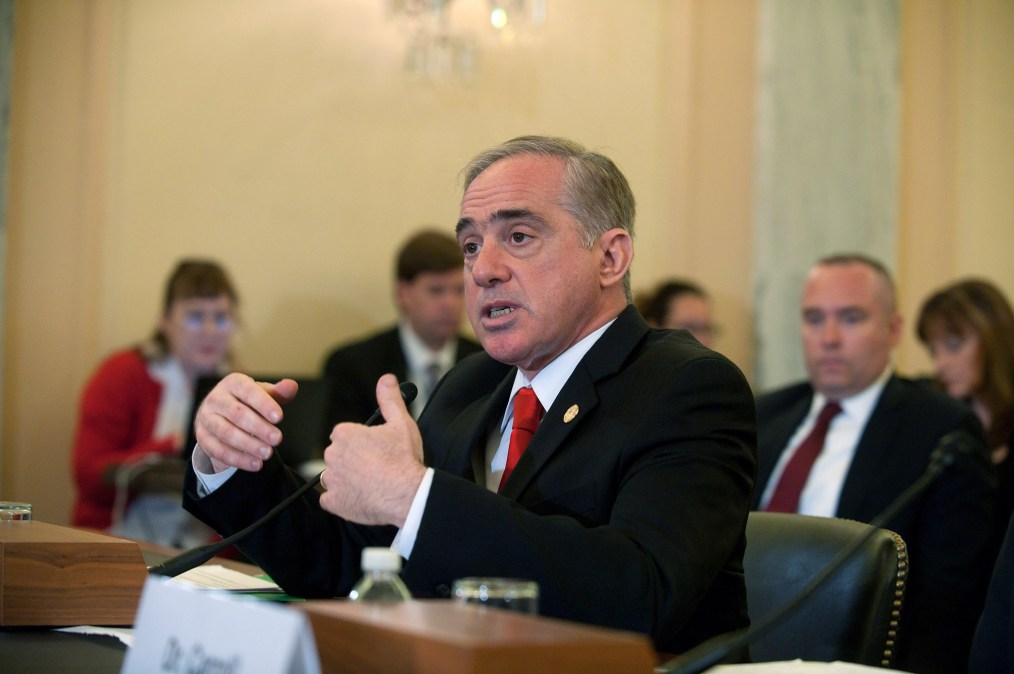 Between fiscal 2011 and fiscal 2016, the Department of Veterans Affairs spent more than $1.1 billion on a pair of electronic health record systems that it is now looking to replace, according to a congressional watchdog's report.
The Government Accountability Office released an audit last week combing through VA's spending during the six-year period on its integrated Electronic Health Record (iEHR) — an attempt to build an EHR directly in conjunction with the Defense Department for interoperability — and the Veterans Information Systems and Technology Architecture Evolution, or VistA Evolution. From VA-provided data, GAO came to the conclusion that the department paid 138 contractors $224 million and $880 million for the modernization projects, respectively.
GAO published this data as the VA decided recently to divert from the decades-old VistA platform and instead move over the next decade to a modernized $10 billion commercial off-the-shelf EHR from Cerner.
Of the $1.1 billion obligated on the two programs, VA paid more than two-thirds of it — $741 million — to just 15 contractors. Here's a quick breakdown of obligations to "key contractors" from the report: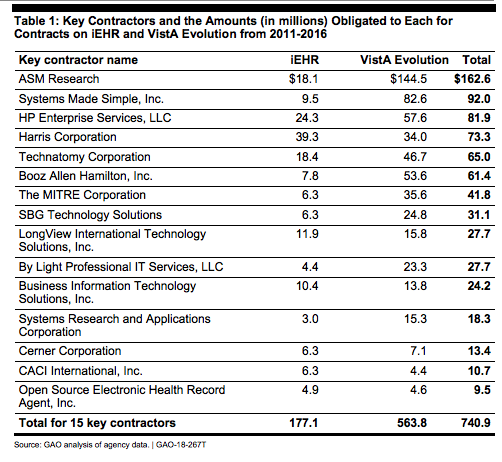 The remaining $364 million went to 123 contractors who for the most part performed work for only one of the modernization projects.
Spending on these two programs highlights only part of VA's decades-long struggle to modernize its EHR, an effort that began in 2001 with VA's HealtheVet. VA couldn't provide data for what it spent on that program, which "was scheduled to be fully implemented by 2018 at a total estimated development and deployment cost of about $11 billion," the report says. The department ultimately terminated HealtheVet in 2010.
With iEHR and VistA Evolution, the VA would experience similar failed implementations, which has many lawmakers worried this latest contract with Cerner will be no different.
"Let's be honest. There is not a track record of successes here," Rep. Will Hurd, R-Texas, said during an Oversight and Government Reform IT Subcommittee hearing Dec. 7. "Given the amount of money spent VistA modernization and the lack of return on that investment, we have concerns about this rollout. It needs to succeed. The whole country is rooting for the VA to succeed."
Though VistA is set to eventually be phased out, VA officials testified at the hearing that the department will continue to maintain the platform at hospitals until the Cerner system is fully functional.
During the hearing, VA officials also spoke about work with the White House to bring interoperability between their department and private medical facilities.
GAO sent this report to VA for a response and will issue a final draft with those comments at a later time.