Defense Digital Service, Army Cyber Command expand partnership with workspace 'Tatooine'
Dubbed Tatooine, the new workspace located at the state-owned Georgia Cyber Center is the expansion of a pilot project launched last year to join DDS staff and Cyber Command soldiers to solve hard problems.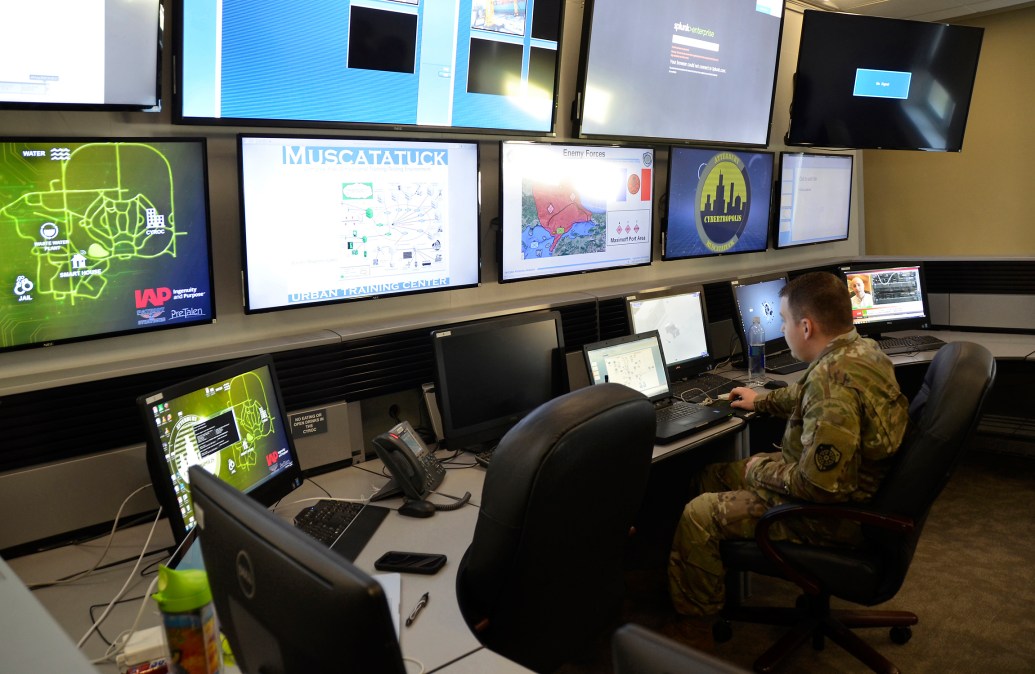 The Defense Digital Service and Army Cyber Command's growing partnership is getting its own workspace in downtown Augusta, Georgia, DDS announced Thursday.
Dubbed Tatooine, the new workspace located at the state-owned Georgia Cyber Center is the expansion of the Jyn Erso pilot project launched last year to join DDS staff and Cyber Command soldiers to solve hard problems. The new space officially opened Thursday with a day-long hackathon "for cyber soldiers and the local tech community," according to a press release.
"Tatooine will be a beacon for technical talent across the military — a place to write code and solve problems of impact," DDS Director Chris Lynch said in an announcement. "Through this partnership, we are setting our best technical warfighters against our toughest problems with support and training from our DDS software engineers and experts. Together, men and women in uniform and tech nerds are finding new ways to rapidly solve high-impact challenges."
The Army is gradually relocating its Cyber Command headquarters to nearby Fort Gordon. The state's CIO Calvin Rhodes said this week that the center will play host to the unclassified training sessions for personnel who are waiting for their security clearances to be completed, a process that can often take at least six months, sister publication StateScoop reported. The National Security Agency, which has an outpost at Fort Gordon, will also have a presence at the Georgia Cyber Center. Officials said the $100 million development is the single-largest investment by a state in a cybersecurity facility.
Tatooine will join Army officers and soldiers with DDS technologists to tackle hard problems in unclassified "startup-like spaces" using private sector tools and methodologies, according to the Pentagon.
"For instance, project teams are using concepts of continuous software iteration and user-centered design, which are common in the tech sector, but not in the military," the department said.
Tatooine is a way for DDS and Army Cyber Command to create more pilot teams without having to relocate Cyber Command personnel to Washington D.C. Other planned uses for Tatooine include supporting initiatives like the Hack the Army bug bounty program.
Army's Cyber Command and Cyber Center of Excellence are providing the technical soldiers to staff teams and Professional Military Education credit for time spent in the program, according to the announcement. Senior Army officers from the center and the Army Cyber Institute will oversee day-to-day operations in the workspace and report to DDS.
"To help the Army resolve its toughest talent management and technical challenges, DDS and U.S. Army Cyber Command (ARCYBER) have partnered to bring technically-gifted soldiers together with private sector civilian talent to rapidly develop immediate-need cyber capabilities," Lt. Gen. Stephen Fogarty, head of the command, said in a statement. "This innovative partnership will solve tough problems and serve as a powerful retention and recruitment tool."
Through the Jyn Erso program, project teams have already tackled a few projects, such as a program to develop, produce and deploy a capability to combat commercial drones.
"The team developed a low-cost software system that is flexible enough to adapt to newly identified targets and easy for operators to use and transport in austere conditions," the announcement said.
DDS and the Cyber Center of Excellence also launched a training pilot earlier this year as part of Jyn Erso to streamline cyber training courses. In its first iteration, DDS cut down the training time for a subset of Army soldiers from six months to just 12 weeks.
We know what you're wondering, and yes, the names of the workspace and the pilot are Star Wars references. DDS, since its inception, has referred to itself as the Rebel Alliance ( a shoutout to the good guys in Star Wars), even naming the Pentagon's landmark $10 billion commercial cloud contract the Joint Enterprise Defense Infrastructure, or JEDI.