Biden's tech and innovation medal recipients include those with VA, Energy, NIH ties  
Federal government awardees honored for their innovations in mobility devices, cancer treatments, and drinking water technologies.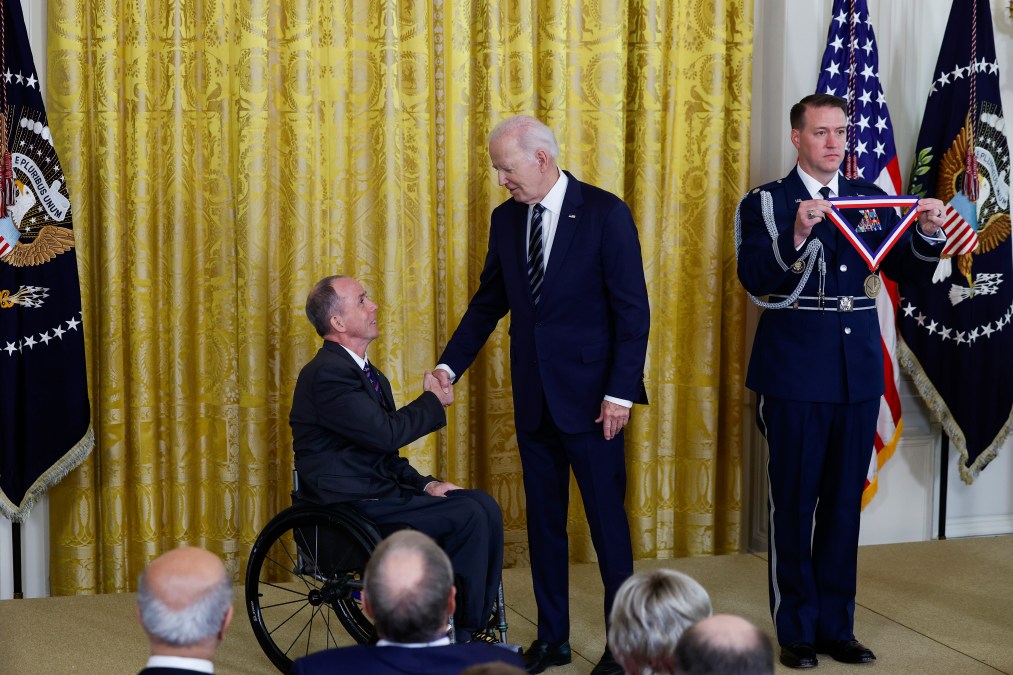 Three of the individuals President Joe Biden honored for their contributions to technology and innovation at a White House ceremony Tuesday have backgrounds in the federal government.
The Department of Veterans Affairs' Rory A. Cooper, Lawrence Berkeley National Laboratory's Ashok Gadgil and the National Cancer Institute's Steven A. Rosenberg were among those that Biden presented with the National Medal of Technology and Innovation. They were honored for their respective advancements in accessibility, "life-sustaining" innovations and cancer research.
"For this year's recipients, outstanding may be an understatement. They're extraordinary," Biden said in East Room remarks before presenting the awards.
In addition to the technology and innovation awards, Biden also awarded recipients of the National Medal of Science in the same ceremony. A total of 21 individuals were honored.
Of the government awardees, Cooper, founding director and CEO of the Human Engineering Research Laboratories — an institute jointly operated by the VA and the University of Pittsburgh — received his medal for his contributions to innovations in wheelchair technology and mobility devices.
"Dr. Cooper's groundbreaking work has improved the lives of so many of his fellow veterans and wheelchair users," VA Secretary Denis McDonough said in an emailed statement after the event. "We are honored to have a great public servant like him working at VA and serving our nation's heroes."
Gadgil, a retired senior faculty scientist at LBNL and current professor at the University of California, Berkeley, received his award for innovations in what the event announcer called "life-sustaining" technologies.
"His innovative, inexpensive technologies help meet profound needs, from drinking water to fuel-efficient cook stoves," the announcer said.
The national lab, which is under the Department of Energy, applauded Gadgil's award Tuesday.
"Ashok's decadeslong commitment to developing technologies that address urgent humanitarian crises epitomizes Berkeley Lab's mission of bringing science solutions to the world," Berkeley Lab Director Mike Witherell said in a release.
The honor is the second National Medal of Technology and Innovation awarded to LBNL researchers, according to the release from the lab.
Meanwhile, Rosenberg, who is the longtime chief of surgery at the National Cancer Institute, which is part of the National Institutes of Health, was honored for his advancements in cancer treatments. Rosenberg led the development of the first effective immunotherapies, saving "countless lives," the announcer said.
"We are thrilled that President Biden has elected to present Dr. Rosenberg with this auspicious award, which celebrates his groundbreaking contributions to the field of immunotherapy," Monica Bertagnolli, director of the National Cancer Institute, said in an emailed statement. "His transformative impact on how we treat cancer today is extraordinary, and a testament to why he deserves this recognition."