New PIF cohort officially introduced at White House ceremony
The fellows were formally welcomed by program executive director Josh Di Frances and new TTS director Anil Cheriyan.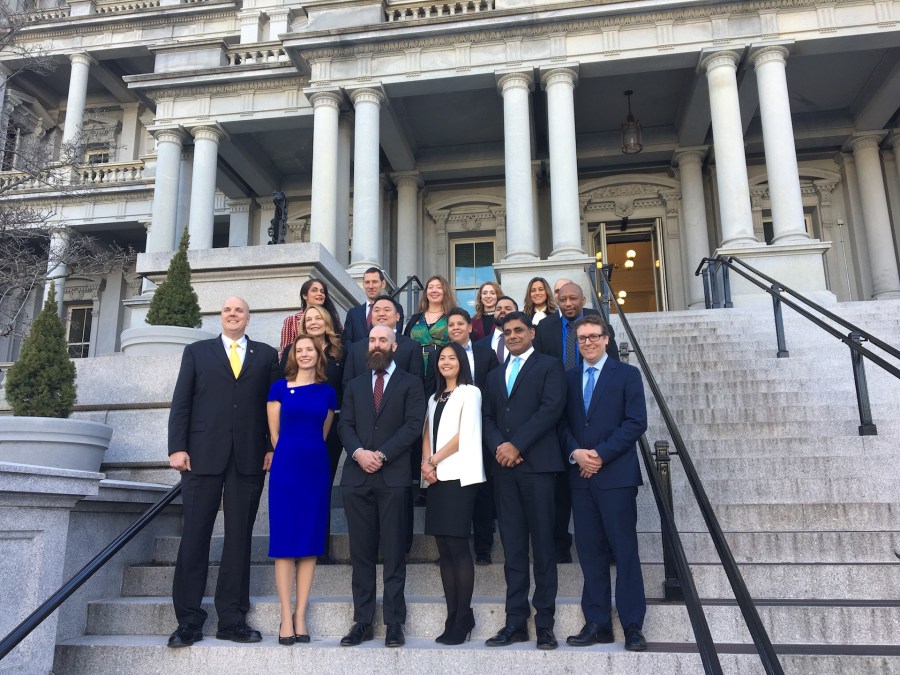 Seventeen federal government newbies, along with friends, family and their agency bosses, met in the Indian Treaty Room of the Eisenhower Executive Office Building on Wednesday for the inauguration of the 2019 Presidential Innovation Fellows cohort.
The fellows, most of whom have begun working with their host agencies in the past few weeks, were welcomed by PIF program Executive Director Josh Di Frances and his team, as well as the new director of the Technology Transformation Service, Anil Cheriyan.
"This is a great time to be in technology, a great time to be in technology in the federal government," Cheriyan said in his remarks, citing recent developments in the IT modernization space. The PIFs, he said, are "the seekers, the foragers, the hunters" who find modernization ideas and opportunities at agencies across the government.
For at least the next 12 months, fellows will be working at the Department of Veterans Affairs, U.S. Marine Corps, General Services Administration, Millennium Challenge Corporation, National Institutes of Health, U.S. Department of Agriculture, U.S. Food and Drug Administration, Department of Transportation, National Institute of Standards and Technology, Department of State and U.S. Agency for Global Media.
The projects they'll focus on include some pretty high-profile ones, too. Maura Newell, formerly of the City of Austin Innovation Office, is working with the VA's Veterans Experience Office in to improve customer experience as part of cross-agency priority goal number four of the President's Management Agenda. Maria Lynne Dayton, a social entrepreneur from San Francisco, will also take part in this general project, but from the GSA side.
Meanwhile, Ryan Fiorentino will work on the customer experience side of Farmers.gov, a project that won $10 million in funding from the newly established Technology Modernization Fund.
Three fellows — Georgeta Dragoiu, Adele Luda and Soni Meckem — are joining NIH's massive precision medicine initiative, All of Us.
These are just a few of the projects. There's also autonomous transportation work being done by a PIF at DOT, data analytics at the VA, AI solutions to be built at the U.S. Agency for Global Media and much more.
Agency partners overwhelmingly expressed excitement about their new fellows. "There are a lot of us here from the VA because we love this program," David Bao, deputy executive director with the U.S. Digital Service team at the VA, said when introducing his team's hire.
"This is one of those opportunities that reminds us of why we serve," said Chad Sheridan, now the chief of service delivery and operations at USDA's Farm Production and Conservation Business Center.
Being a PIF can be a path in to long-term, non-fellowship work in the federal government. Charles Worthington, a former PIF and now the CTO at the VA, made no secret of his interest in keeping this kind of talent in-house for the long term. "They currently think they're going to be here for 12 months," he said, introducing his office's fellows. "And that's nice…"
The fellows laughed.
In December, after closing applications for this cohort, Di Frances told FedScoop that the class skews more technical when compared to past groups, a shift based on changing agency needs and interests.
"We haven't typically brought in as many engineers," he said at the time. "It's been kind of a more high-level strategic role. And now I think it's a coupling of kind of strategic and some more technical roles. It's been interesting to see."