DOD's Deasy sets record straight: JEDI has not been 'paused'
That said, an award won't happen in August, the CIO clarified.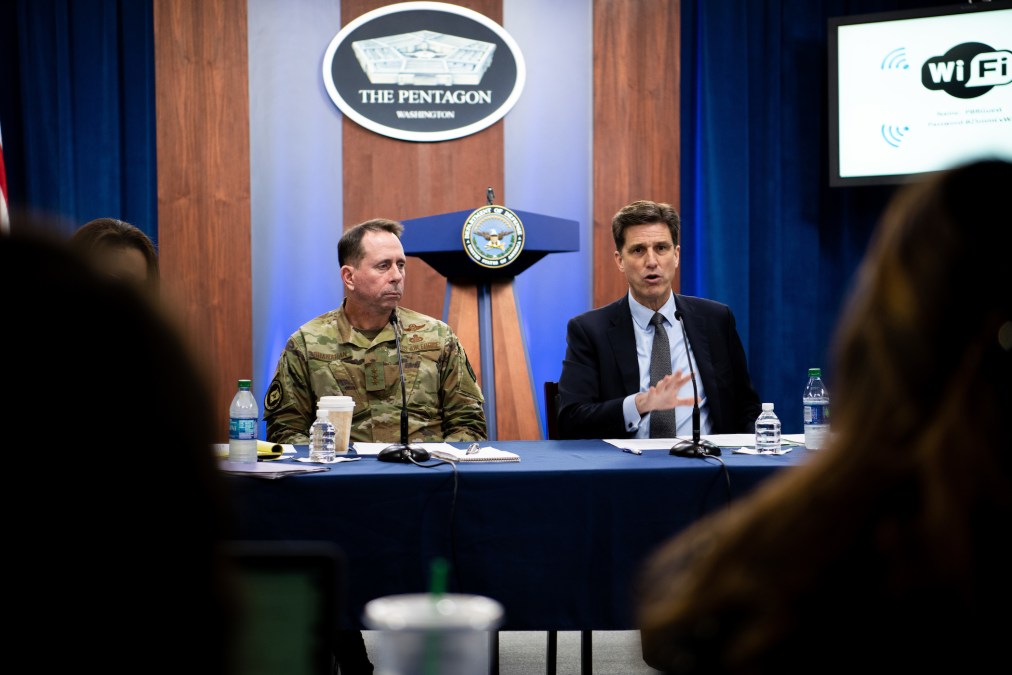 Department of Defense CIO Dana Deasy wants to "set the record straight." Despite Secretary Mark Esper's ongoing review of the Pentagon's $10 billion JEDI cloud acquisition, the procurement has not been put on pause.
After the Pentagon announced Esper's decision to review the Joint Enterprise Defense Infrastructure (JEDI) acquisition earlier this month, reports trickled out that the contract was put on pause. Deasy met with reporters Friday to dispel that narrative, saying, "There is not a pause on the overall JEDI program, meaning that we are still a number of weeks away from completion of the overall evaluation."
The review process and the evaluation of bid proposals from the remaining two contenders — Microsoft and Amazon Web Services — will move forward "in parallel" he said.
However, a JEDI award won't happen this month. Deasy had said recently that the contract could possibly be awarded sometime in August, at the earliest. But he clarified Friday that it will not happen before the end of the month, given that Oracle's failed lawsuit against the contract in the Court of Federal Claims slowed things down a bit and that the Pentagon has placed utmost importance on getting the contract "right."
"One thing I've been consistent on from the beginning is, we've got to get this right. So we are not going to rush to a decision," Deasy said. "We're going to spend whatever time that the evaluation team needs to spend, to make sure we are picking the best technical solution at the right price with the right delivery criteria that will meet the needs of the warfighter."
What is Esper reviewing?
Deasy gave additional details on the secretary's review of the JEDI contract. He described it as a series of educational sessions Deasy's office an others will give Esper to help him "fully comprehend the overall JEDI program."
"So we have put together a series of education programs that allow him to get a deep understanding," Deasy said. "As you can imagine, when he was secretary of Army, in that role he was aware of the JEDI program, but in that capacity, he did not have to have a complete, deep understanding. In his new role, given that this is a large acquisition program, you would expect any new secretary taking over the DOD to want to have a — a strong understanding of any major acquisition program. So that's exactly what we're doing here."
It sounds like Deasy will throw a variety of top Pentagon and military brass at Esper to lay out the vision and importance of getting to an enterprise cloud environment as quickly as possible. "What we're going to do over the next several weeks is we are actually going to bring people in to these sessions," he said. "So we're going to bring warfighters in. We're going to bring the military services in. We're going to bring combatant command participants in. For example, U.S. Cyber Command, and we're going to bring technical and legal experts in, as well."
Deasy said the process will be iterative over "the next number of weeks."
"He needs this because he obviously has a role to weigh into the overall direction of this program," he said, adding that a contract award will not move forward until the acquisition process has Esper's blessing. At the end of this process, he will obviously be at a point and a position to weigh in with his thoughts and views on this. We obviously will need to incorporate his thoughts and views on that at that time."
Asked about the role of the president — who has said he will look into the contract after hearing numerous complaints — in the acquisition process, Deasy said Trump is "not involved in the source selection process and not involved in all of these efforts that we are doing with Secretary Esper."
Despite efforts to make the review independent and non-political in nature, there is an air of swampiness to it. Esper's announcement came after a number of Republican lawmakers urged him and Trump to review the acquisition. Lobbyists for Oracle — a company that bid on the contract but couldn't make it past the first set of gate criteria — appear to be at the center of the orchestrated efforts to derail JEDI, passing a document around Washington with a flowchart titled "A Conspiracy to Create a Ten Year DoD Cloud Monopoly," according to a CNN report. The company tried twice to protest the contract and failed on both occasions.
JEDI is critical to AI
"The warfighter needed enterprise cloud yesterday," Lt. Gen. Jack Shanahan, head of the Pentagon's Joint Artificial Intelligence Center (JAIC).
Deasy asked Shanahan to join the briefing to provide operational examples of why JEDI and the move to adopt enterprise cloud are so important to the nation's defense, particularly in bringing AI to the battlefield.
"Dominance in AI is not a question of software engineering," Shanahan said. "But instead, it's the result of combining capabilities at multiple levels: code, data, compute and continuous integration and continuous delivery. All of these require the provisioning of hyper-scale commercial cloud."
Shanahan said JAIC and the Pentagon's Project Maven — an AI-enabled program that aims to help Air Force analysts make better use of full-motion video surveillance — will "be among the very first projects to migrate to JEDI."
The ability to "run entire AI pipelines in the cloud will be critical for success," Shanahan said.
"Enterprise cloud provides a solution for the deployment of software and A.I., enabling instantaneous and continuous deployment of updates to a global enterprise," he said. "A single instance of an AI application can be used by an entire enterprise and updated for all at the same time. An enterprise cloud allows AI cycle speeds that can be measured in updates and across an entire enterprise in hours as opposed to in months, six months or maybe even a year."