If your technology limitations were removed, how would you treat your customers?
How would you treat your customers If your technology limitations were removed? 6 big ideas from Gartner IT Symposium.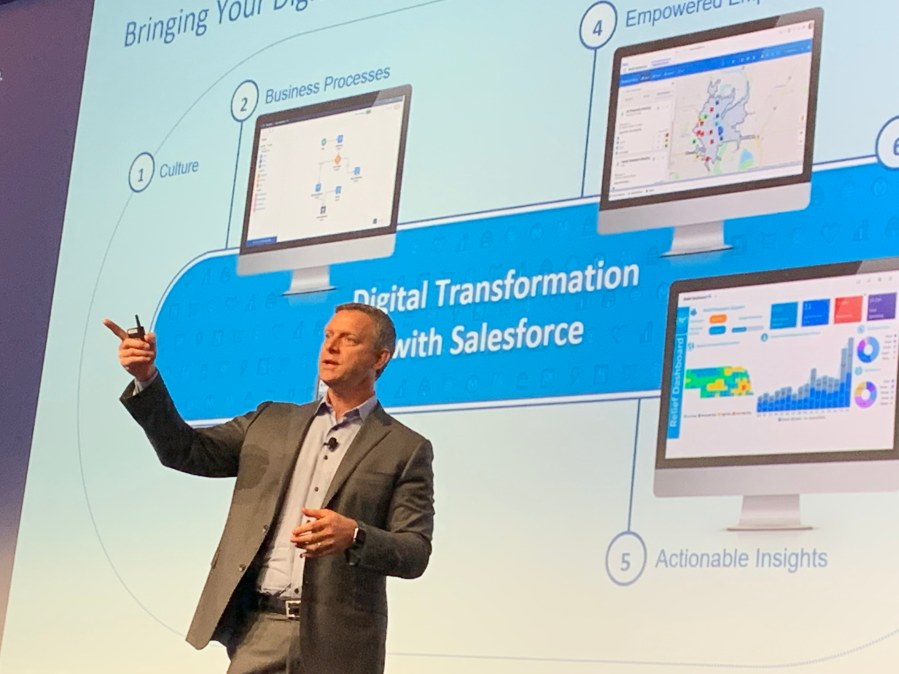 The ability to distill digital transformation helps leaders from all disciplines make important resourcing decisions that impact mission, especially for government.
At this year's Gartner IT Symposium, CIOs and IT leaders gathered to discuss the future of technology, but also how best to serve as communicator and facilitator.
All levels of government are feeling a push to take a "Customer First" approach to transformation, as seen in executive orders like the 21st Century Integrated Digital Experience Act.
Why all the focus? Improved customer experience helps agencies deliver greater impact across mission areas while lowering operational costs. Recent studies show that when government engagement improves, customer satisfaction and trust increase, and so does employee productivity and well-being.
So how do you help leaders across the organization place constituents, or customers, at the center of everything they do?
In a keynote session Paul Tatum, Senior Vice President for Global Public Sector at Salesforce, spoke to this challenge. "Government IT has to move from just 'crunching the numbers' in the back office to focusing on customer-centric services," he said.
Tatum offered the following six big ideas for technology leaders to help their agencies adopt the new mindset.
1. Create an intentional culture based on customer success
"The most important place to start is understanding where mission and constituent expectations intersect," said Tatum. "How does your organization want to show up for customers, partners, employees?"
This does not take technology to understand. An intentional culture, based on customer success, needs to be the north star that guides any transformation initiative. Mission and values drive priorities and investment.
2. Build customer-centric business processes
Constituents value engagement that's easy, effective, and transparent. Business processes require empathic, human-centered design. It's important to look for places where constituents experience friction.
"You increase satisfaction while reducing costs when citizens get questions answered and find the information they need quickly," said Tatum. For instance, the IRS recently reported a reduction in costs associated with in-person and live-assistant calls from around $40 to $60 down to an average of $0.22 when digital transactions are used.
3. Design and deliver differentiated experiences
"What is simple delights," said Tatum. Each unique constituent desires to be valued and informed. Data-driven insights help you refine how you serve, from understanding a case to sending an appointment reminder. Omni-channel engagement creates greater access to services, while personalization makes constituents feel welcome and more able to effectively engage.
4. Empower employees to serve customers
When technology removes silos the true magic happens. To collaborate effectively employees from different disciplines need a single, shared view of a customer, case, and even industry partner. Employees also need differentiated experiences to advance their capabilities to serve. Personalized digital workspaces contain all the apps and tools each employee needs to be productive, learn, and grow.
5. Use data to generate actionable insights and responses
What is the average amount of time on a web form for those who abandon it? Are caseloads balanced across teams? Where are employees getting stuck?
"Be prepared to make data and analytics a part of your everyday digital transformation work," said Tatum. Insights may be gathered from any user, channel, process, and interaction. Digital data points may be used to inform a fast and iterative delivery process for new functionality to expedite on low-risk improvement.
6. Leverage a unified, agile platform
It's best to use technology that helps you keep a clear line of site between mission goals and customer expectations. A unified, agile platform brings teams together to serve the customer, not just now, but for years to come.
The fully integrated benefits of CRM, case management; no code and low code development; and out-of-the-box apps extend the value of legacy systems, produce actionable insights, and ease adoption of emerging technologies, like AI and data analytics.
Agencies continuously improve, even reimagine services, when they learn to understand customer needs and expectations in relation to mission goals. Technology should only keep you focused on the customer. It does not complicate or cloud your mission.
Once your team acclimates to using a customer-centric lens for transformation the roadmap becomes clear. And achieving your vision becomes a series of interconnected, but quick sprints that everyone may achieve.
Learn more about Trailblazers in Government and about future-proofing your agency's digital transformation: "5 questions to ask cloud service providers."
Paul Tatum is the Vice President, Systems Engineer for the Public Sector Unit, Salesforce.  Tatum leads the Public Sector systems engineering team with responsibility for overall technical direction, architecture, and technology evangelism around Salesforce cloud based solutions.