Bezos was up for a Defense Innovation Board spot before last minute retraction
Jeff Bezos was up for a spot on the Defense Innovation Board before a whistleblower flagged problems.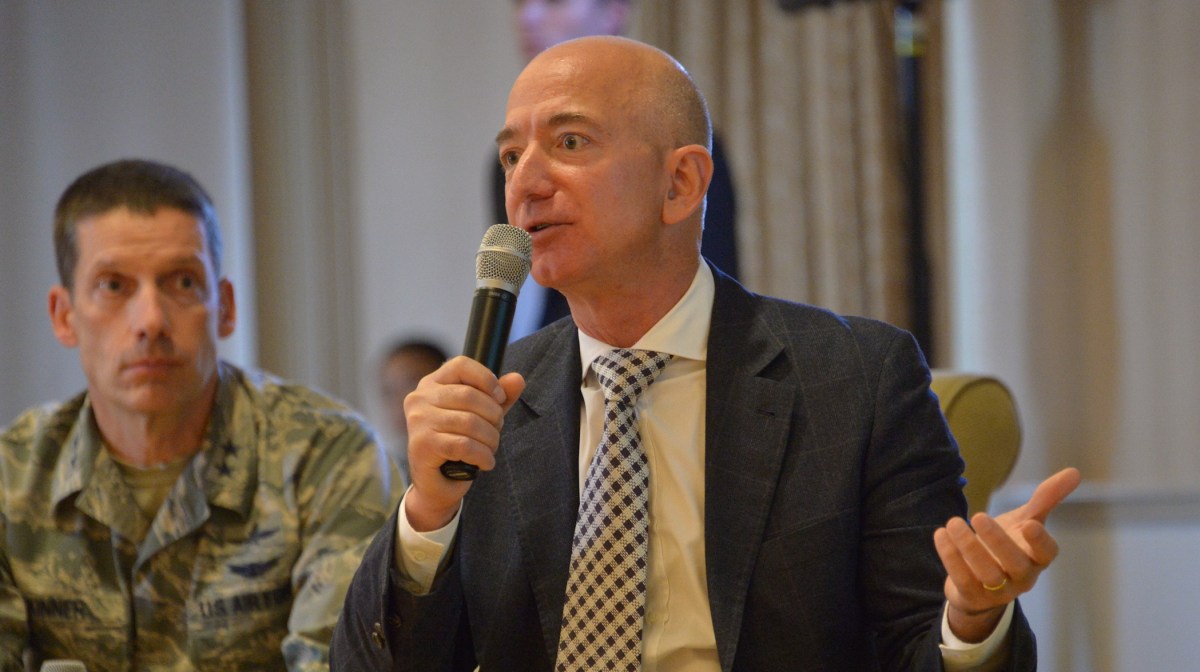 Editor's Note: This story was updated with comments from DOD.
Amazon CEO Jeff Bezos was up for a spot on the Defense Innovation Board but was never sworn in because he didn't complete a security clearance, according to a new report.
A ProPublica article adds new details to the Pentagon's retraction of Bezos' DIB offer shortly before then-Defense Secretary James Mattis was set to fly to the West Coast to swear Bezos in to join the board. The Washington Post first reported Bezos' attempt to join the DIB last year, citing a Pentagon spokesperson who said the board's "travel schedule and unique approach to its work, and the variety of security, legal, and ethical obligations of serving on a federal advisory committee" were the reason he could not join.
The Defense Innovation Board, founded in 2016, is the DOD's technology advisory committee populated with business leaders and academics who specialize in technology innovation. Bezos would have joined contemporaries like former Google CEO Eric Schmidt, Reid Hoffman, a co-founder of LinkedIn, and others.
A clearance appears to be an operational necessity for the DIB as the board routinely discusses classified information.
"If the DOD tasks an advisory committee to provide advice on classified issues, then the DoD requires individual members along with staff personnel supporting the advisory committee to possess the necessary security clearances," Elissa Smith, a Defense Department spokeswoman, said. Smith did not directly comment on the innovation board, saying that "some individuals" on defense advisory committee had to have clearances, but not all.
A source close to the matter said Bezos wanted to join but given he is the owner of a major national media organization didn't want to have a security clearance.
One of the board's staffers, Roma Laster, flagged the problems with Bezos' lack of a security clearance. Laster also called Mattis' intention to personally swear Bezos in, let alone traveling across the country to do it, a "noteworthy exception," as secretaries of defense don't typically swear someone in.
Though Bezos' nomination was withdrawn, Mattis still flew out and took a meeting with Bezos and his team. In the reported meeting in California, Amazon leaders gave a "sales pitch" on shifting the DOD's outdated data centers to a commercial cloud environment. The conversations, although not illegal, add further detail to the tumultuous journey of the Defense Department's JEDI cloud contract, short for Joint Enterprise Defense Infrastructure.
JEDI has been one of the rare defense technology contracts to rise to public view and political consternation. President Donald Trump has spoken critically of the deal and several lawmakers have signed letters urging for the contract to the delayed and reviewed. Other lawmakers have encouraged the contracts swift completion.
There is an ongoing DOD Inspector General investigation into the contract and current Defense Secretary Mark Esper is reviewing the contract. DOD CIO Dana Deasy clarified earlier this month that the contracting process has not been paused and continued to defend its fairness.
Many of the contract's critics have been quick to accuse former DOD employees close to the contract of being in a conflict of interest in their dealings with Amazon's cloud computing arm, Amazon Web Services. A federal court, however, has denied the fact that possible conflicts of interest impacted the acquisition strategy. But the DOD IG is continuing to look into conflicts of interest as part of its investigation.
As for Laster, she was removed from the DIB, according to ProPublica, after challenging "the Pentagon's cozy relationship not only with Bezos, but with Google's Eric Schmidt." However, she remains an employee of the Pentagon. Laster filed a grievance, but it was denied.