Leaders want to improve customer service inside and outside agencies
Federal leaders are leveraging policy and technology changes to improve customer service both inside and outside the agencies.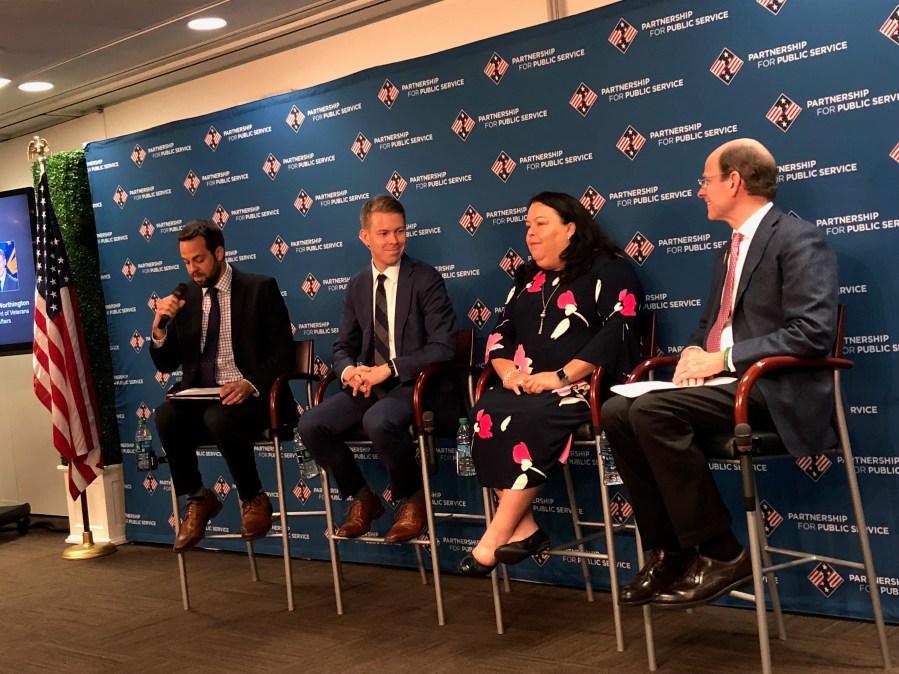 One of the key markers of the President's Management Agenda calls for agencies to improve on how they deliver services externally to Americans. But federal leaders are also leveraging policy and technology changes to extend that goal inside their agencies.
Executives from the departments of Agriculture and Veterans Affairs, and the Centers for Medicare & Medicaid Studies detailed Thursday some of the strategies they are using to promote better customer services for citizens — but also for their frontline employees.
"We really have to change the conversation and we have to change what we look at," Joe Doyle, director of the USDA's Office of Customer Experience, said at the Partnership for Public Service's Customer Service in Government Summit. "The conversation needs to include the customer in every meeting and the visuals have to depict this person we are here to serve."
Doyle — who previously served in the Georgia Office of Consumer Protection under then-governor and now Secretary of Agriculture Sonny Perdue — said he is working to change the culture of the agency into one that designs its services and processes around citizen engagement. To do that, he's also redesigning operations based on feedback from the frontline employees working with those citizens.
"Every employee must see themselves in the picture," he said. "They need to be valued. They need to be talked to in terms of 'How can we help you at the frontline interaction level?'"
Doyle said USDA is approaching that strategy more from a policy level than at the technology level, tasking 40 nominated employees as "customer champions" to see where the agency can innovate its processes.
VA CTO Charles Worthington said his agency is leveraging technology for large-scale projects like the ongoing Vets.gov migration and training exercises for employees.
"We don't want customers to have to know which part of the VA they have to go to get their services," he said, noting that the agency plans to fold in the service functionality offered on Vets.gov into the broader VA.gov website by the end of the year. "What we've learned is that most of our customers expect to be able to go to VA.gov and easily get to the service that they are looking for, get their question answered or get a personalized experience."
While Worthington's team is working to make it easy for users to find services in a few clicks on VA.gov, it's also providing text reminders to vets about upcoming appointments and using videos of citizens attempting to obtain VA services to inform workers how they can improve them.
Kimberly Brandt, CMS deputy administrator for operations, said feedback has been crucial to the agency's efforts to provide better citizen services. To get a better sense of how those services can be improved, she said her agency is reaching out to employees, beneficiaries and providers.
"Technology is becoming very important, but there is still the human component," she said. "I think for us, because we know that so many of our new customers, so to speak, rely on technology as well as our providers, we view that as important to align people to get good information about where they can find quality and better value health care and helping our providers know how to better provide that care."
Brandt said CMS is working on initiatives like Medicare Blue Button 2.0, with the U.S. Digital Service, to provide customers with benefit information and, eventually, their health care information. She added that this year's Medicare payment rules for providers will include interoperable requirements that allow patients to access benefit information on smartphones and wearable technology.
For its employees, Brandt said, CMS is using employee survey data to apply policy and resource tweaks in a program called CMS Life that can address morale and engagement.
"We're always trying to think about we can do," she said. "We want our employees. We need them to be able to do all the work we have. So how can we respond to make it a better experience for them?"